Analyze your competitors strategy
Big Data available to any Ecommerce
Custom made dashboard
Prepared for demanding Ecommerces
Study your position in the market and compare your catalog with your competitors at a general level or one by one. We filter and categorize all the big data we collect to be as detailed and useful for your business.


Competitors analysis
One-to-one comparison
We analyze all your competitors product by product, their prices and their sales positions on their websites, marketplaces and price comparison sites where they may be selling. Take control of the market and don't let the market take it from you.
Classify according to your needs
Personalized filters
Classify your competitors efficiently and focus on what's important. Apply the more than one hundred filters available to extract the information you are looking for right now, and create automated reports.


One-click reports
Automated alerts
Generate reports based on your filters and create automatic alerts. Be the fastest and best informed of the market and take action.
Optimize your prices
Manual price changes
The perfect screen to optimize your prices manually. Take into account the prices of your competitors, product ratings, price history, costs, margins and make your price changes from the same screen, without having to leave Boardfy.
After making your selection Boardfy will reposition your products based on your selection in minutes.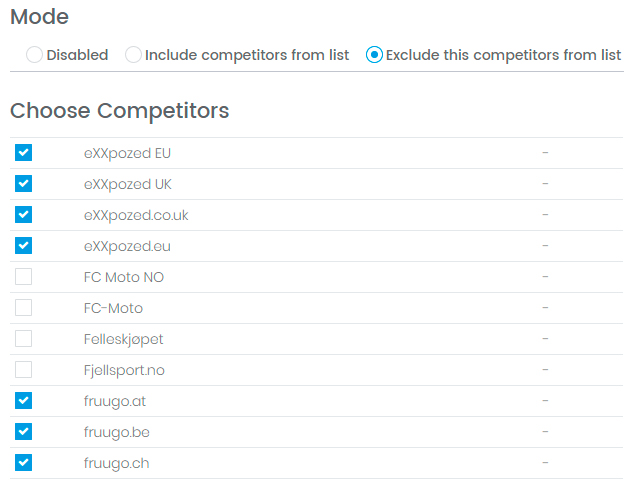 Lead your pricing strategy
Track, analyze and take action
Integrate your costs
Discover the profit margin for each product and create your pricing strategies around it. Avoid losing money again without knowing it.
Email alerts
Create personalized alerts to be aware of the evolution of your prices and the movements of your competitors with the right information at the exact moment.
Price evolution
Prices are a living entity whose evolution can obtain very valuable information. You can find out about their trend for each article.
Exportable reports
You can export all the information Boardfy offers you about your products in a couple of clicks. Choose the data you need and manage it comfortably.
Price changes
You can change your prices from Boardfy with one click, but you can also do it automatically with our Dynamic Pricing solution.
Sales opportunities
The ideal sales scenario is a market without competition. Keep up to date on what items you can sell alone.
Hundreds of integrations available
Sync your store in minutes



Amazon




Shopping




Prestashop




WooCommerce




BigCommerce




Shopify




Magento




API




Excel / CSV
Boardfy Products
Explore other solutions to grow